"God could not be everywhere, and therefore he made mothers"
On the eve of Mother's Day, this article is dedicated to all women who are mothers or intend to experience motherhood some day while aspiring to make financially smart decisions.
 "Happy Mother's Day"!
I feel mothers are akin to 'Bahubali' – they seem to have unparalleled superpowers to be able to multi-task their pressure-cooker job, home and raise kids (24x7x365).
Pregnancy & Kids Related Expenses – Adverse Impact on Financial Health
Becoming a mother is one of the most divine feelings but being able to conceive a child could be an overwhelming both physically and emotionally for women. There are additional responsibilities to hunt for a gynaecologist, paediatrician, find maids, baby-sitters and prepare for baby's arrival notwithstanding the family support. In such a stressful scenario, it's only prudent to have planned the pregnancy related expenses and be relieved on that front.
Unforeseen Pre-Pregnancy Expenses–

With ~18% Indian women suffer from Poly Cystic Ovarian Syndrome (PCOS), an infertility disorder, several couples opt for infertility treatments like In Vitro Fertilization (IVF) which can cost Rs 1.5+ lacs for 1 cycle in private hospitals. Couples may have to opt for multiple cycles of the same.

Child Delivery Expenses –

Courtesy the unscrupulous profit-at-any-cost hospitals, an alarming trend is that sizeable number of child deliveries in India now happen as C sections or caesarean, which cost Rs. 70,000 to Rs 5 lacs in private hospitals including during and post hospitalization expenses.

Kids' Expenses – 

As parents, we aspire our kids to have a well-rounded exposure and experience best-in-class amenities. Kids' expenses galore – baby sitter, extra maid, cook, mother-toddler classes, pre-school, school, tuitions, extra-curricular coaching for sports, dancing, singing, marriage and many more.
From DINK (Double Income No Kid) to SIWK (Single Income With Kid) – Several women opt for unplanned prolonged unpaid maternity leave or a career break or sabbatical or permanently sacrifice their careers for their children.  It's a double whammy on the finances of the family – Reduction of income of working woman coupled with increase in childcare expenses. I have come across several couples who end up in a dire financial crisis in such a situation.
Ergo, there is a dire need for financial planning for couples before starting a family.
Millennial Women – Planned Motherhood Trend
I am witnessing an increasing trend of the contemporary millennial women planning their motherhood – During pre-pregnancy, she consults a gynaecologist, reads volumes on 'what to do during pregnancy', and changes her lifestyle accordingly. Yet, in my experience as an Investment Advisor, she, more often than not, fails to showcase the same far-sightedness for her financial health circa motherhood times.
Motherhood & Kids' Expenses – How to Plan?
There are broadly two actionables possible to address these expenses:
Health Insurance/ Maternity Cover –

This one's a quick hack. Most salaried professionals are covered under their employer's group health insurance schemes that would generally also include maternity cover for the woman employee or spouse of the male employee. These covers could be upwards of Rs. 50,000.
You should register your spouse (immediately post marriage) and kids (immediately on birth) under the group insurance cover (for which you may need to consult HR), inform the insurance company/ broker for any medical claim (including maternity for the employee or spouse) in advance, inquire if child's ICU expenses are covered and don't forget to read the fine print of the policy.
Think before you opt for a Pure-Play maternity Cover – They are more expensive (you may end up paying additional Rs 20,000 to Rs 50,000 before maternity cover becomes active) and you have to buy at least 1 to 4 years before the maternity cover becomes active. So, it may not make sense to buy if the woman is covered under own or spouse's employee provided group insurance cover. However, some of them could also cover child vaccinations which could tilt the argument in their favour.
Invest in Wealth Generating Assets: Equities 

With the decline in Fixed Deposit rates, it would no longer be wise to rely on FDs for funding child's education and marriage expenses (which are >5 years away). Equities can provide superior tax and inflation-adjsuted returns over long term vs other asset classes. The below chart highlights the stark difference in wealth creation on investing Rs. 20,000 per month for different tenors across fixed deposits, equity mutual funds and specific stocks (backed by good research).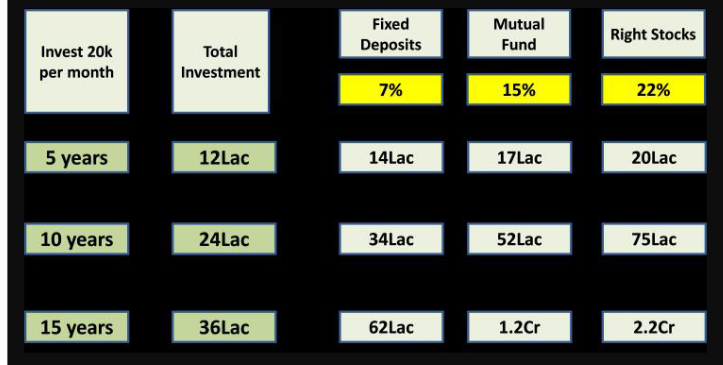 PS – The yellow highlighted boxes are indicative returns from the corresponding fixed deposits, equity mutual funds and specific stocks.
Clearly, the idea is that couples and mothers should plan early to experience the magic of compounding in wealth creation and be at peace to meet both planned and unplanned expenses.
You can also read Women's Day article here – Women & Investing – No Longer A Paradox?
Feel free to reach out to us in case you have any queries related to investing.
Disclaimer – Investing in equities is risky and you must consult your advisor.
Best Regards,
Resha Mehta
SEBI Registered Investment Advisor
GreenEdge Wealth Services