How Comprehensive Customized Financial Planning Helps You?
At the outset, we request you to read the story on how comprehensive and continuous financial planning helps you deploy your networth in line with your risk profile, grow your wealth, provide regular income if required, provide for your family in the unfortunate event of your death, build your safety nets and plan for your and your children's important life events.
Click here to read how GreenEdge's financial planning helped a couple – How Financial Planning helped a GreenEdge's customer: Story in Mint
The New-Age Financial Planning – Why You Need it?
When it comes to financial advice, we have traditionally depended on parents or spouse (mostly male members) or local broker, local insurance agent, uncle who advises everyone willing to listen and so on! We also have to understand the options available have changed drastically; needs have changed and multiplied; the way retrials are planned has changed (from defined benefit to defined contribution) and business cycles have shortened from 8-10 years earlier to 4-5 years.
We pay our gym trainers, dieticians,etc to keep us on track healthwise (although we don't like to, we pay willingly as we see long term benefits). We also believe financial planning is not as easy as asking someone in the know. Wealthy families hire special consultants as advisors, planning succession, asset division, etc. Sometimes even we don't know what our goals are 3,5,10, 20 years from now; financial planning will help you think hard, it will help you identify easy compromises and achieve balance between goals.
As economic scenario changes or your risk profile changes, you need to reallocate assets. We have also come across instances where spouses who feel the need to plan finances separately.
GreenEdge's Offering – ONE-TIME Comprehensive Customized Financial Planning for Individuals/ Family
We have introduced comprehensive financial planning based on identifying risk profiles. We try to understand your comfort levels with various asset classes, financial and retirement goals, assets, liabilities, expenditure patterns and income flow. Why should you do let us assist with your financial planning? Because the proprietary model that we shall use for your planning is used by us for our own financial planning! We believe in putting money where our mouth is.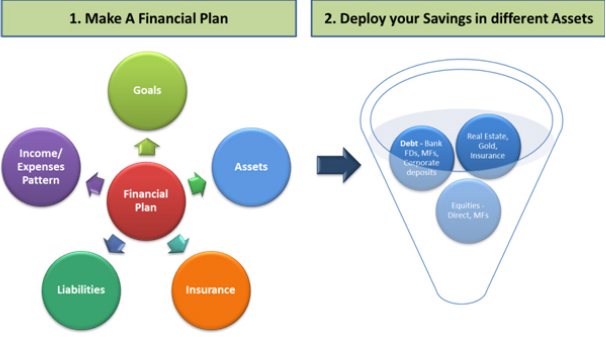 Scope of 'ONE-TIME Comprehensive Customized Financial Planning' Exercise
1. Computation of Risk Profile
2. Asset Allocation (basis risk profile) – How much funds are to be invested in debt, equity, etc
3. Goal based Planning – Based on our cashflow projections of your income, expenses, savings, etc, we shall plan your investments accordingly to enable you to meet your goals like vacations, childrens' education, marriage, retirement, etc.
4. Mutual Fund Portfolio – Review & Recommendation. We recommend only direct plans to our customers and DO NOT earn any commissions from AMCs or 3rd parties
5. Health Cover – Review & Recommendation
6. Insurance Cover – Review & Recommendation
7. Big Expenditure – Eligibility & Planning
Feel free to reach out to us on [email protected] in case you wish to avail or know more about our services.